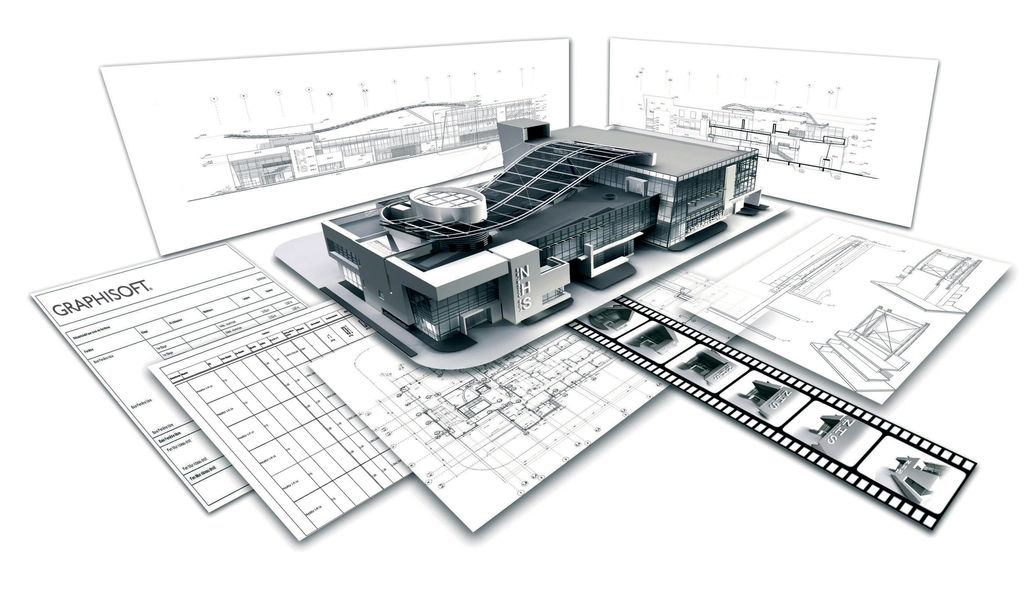 Our Story
Hector Camps, founder of PHI Cubed.
In 1997, Frank Gehry's Guggenheim Museum Bilbao opened – a building that marked a turning point for the building industry and forged the direction of my career. This building broke all the rules.
Not only was this building developed in 3D at a time when nearly every building project was developed in 2D by digital drafting, not modeling, this building was a 3-D model of one of the most complex building forms ever attempted by an architect. The 3-D model began its development in 1993 and included the architecture, the structure, and the mechanical, electrical, and plumbing systems, all in 3-D. The model of the structure was used to coordinate and fabricate the steel on the project. And, the model of the building envelope was used to fabricate the sheet metal on the exterior surface of the building. What's more, the model of the MEP systems was used to coordinate and route the complex system. This building represented a major crossover from traditional construction process to a collaborative design to fabrication digital process. Everything that Frank was doing contradicted everything that I was taught in school and I pondered, how's Frank able to do this? It turned out Frank had partnered with a man that previously consulted for the aerospace industry, Rick Smith, who took Frank's office from using pencils on paper to implementing CATIA (Computer Aided Three-dimensional Interactive Application), a predominantly aerospace tool. Rick's company, C-cubed Virtual Architecture, working within Frank's office, adapted CATIA to the AEC industry, and developed the techniques that transformed Frank's unique physical modeling design process to where they "Virtually Built the project before the project is built.™" Working with Rick and CATIA, Frank's architecture was liberated. He now had a platform where his visions could be fully defined, rationalized, and constructed, where Frank was continually told before by the contractors, none of his designs could be built.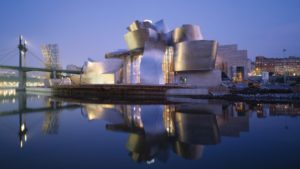 In 2000, I graduated with a bachelor's in architecture and went to work at the Royal Caribbean International Cruise Line. My 3D modeling and visualization skills landed me a job working on the Voyager family of cruise ships and the Radiance of the Sea.  Working there, I came to discover that the ship building industry had access to a more superior technology than what the building industry had access to. I remember seeing a set of plans that couldn't fail. Those plans were the most perfected set of plans I had ever seen and I remembered wondering how did they manage so much complexity? RCCL used Meyer Werft (MW), a German Shipbuilder, to construct the Radiance. Meyer Werft used CATIA to design, engineer, construct, fabricate, and assemble the cruise ship all from a virtual model. At the time, nothing came close to doing something similar in the building industry. I was truly impressed that such powerful software existed. At the time the building industry was largely 2D based. I learned more about building buildings from building cruise ships then I ever learned from the building industry. A building project is a building in a city and a cruise ship is a city in a building. If CATIA was able to manage the entire complexity of developing a cruise ship, there is no building CATIA would not be able to handle. Once I came to the full realization of this, a thought entered my mind – if the building industry developed buildings how the shipbuilding industry developed cruise ships, it would revolutionize the building industry. At that exact moment, I made it my quest to bring the full power of CATIA to the building industry.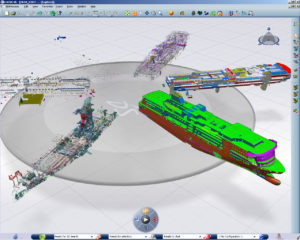 While in graduate school, I pursued both a Master's degree in architecture and a Master's in management at New Jersey Institute of Technology. Under the school of management, I gained a deep understanding of management of information systems (MIS). While studying MIS, I realized that the building industry was still largely a paper-based management system. While almost every other industry in the world embraced computers, the building industry was still on paper. And to this day, the building industry still largely relies on paper to communicate design and engineering construction documents, to relay information, and manage change. The process is error-prone, fragmented, fraught with rework, and duplicated effort. Since the invention of the desktop PC in the early 80s, the AEC industry has only embraced CAD (computer aided drafting), a computer process that simulates hand drafting with a digital pen and mouse. But CAD did little to revolutionize the building industry; rather, it was a sustaining technology that kept the AEC industry in a 2D paper-based process. I thought,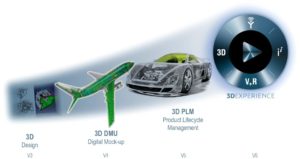 there must be a better way. So I took a second look at CATIA from an information management perspective and I discovered Dassault Systèmes (DS), the makers of CATIA, had addressed this issue with a product called ENOVIA™. ENOVIA™ extended CATIA beyond the CAD and engineering department to include the entire enterprise and extended enterprise, including outside consultants' suppliers and vendors. ENOVIA™ takes a lifecycle view of products and is a Product Lifecycle Management (PLM) technology. It is how other industries in the world manage the entire lifecycle of their products, such as design engineering fabrication assembly and operations. ENOVIA™ is the information management broker behind the scenes managing the relationships and contributions of different stakeholders to a common model. Dassault defines this as one version of the truth. It allows a team to create a single model that is co-authored by multiple contributors throughout the entire design engineering and construction process and remains in place as the ultimate source of information of an asset during the operational phase. Together, CATIA and ENOVIA™ create a platform that allows an integrated team to develop a product in 3-D, in real-time, across a distributed network, and can manage information for the life cycle.
By 2003 a new term, Building Information Modeling (BIM), entered the industry and propelled us into the post-CAD era. Since then a lot has been said about BIM, including what it is and what it is not. BIM, has conceptually borrowed a lot from PLM. I was very excited and felt validated when the industry coined this term as it brought the idea of developing buildings in 3-D into the mainstream, and I felt it was a step in the right direction. So, what is BIM? BIM is a parametric 3-D design intent model of a "building" that contains data. Based on an AEC data model, it's an object-based modeling process that serves as a front-end data collection strategy, but whose primary purpose is drawing and document automation. Interestingly, while BIM has done a lot to move the industry to a 3-D process, it's done little to move the industry off paper, break down silos, and manage information beyond landing it on a page.
While completing my Master's degree in Management in NJIT, I was part of the inaugural program of Product Architecture at Stevens Institute of Technology under the school of mechanical engineering. Appropriately named, this program took a design-to-fabrication approach in the AEC industry. Here I finally got access to CATIA V5. Due to the raging success that Gehry Partners experienced with the use of CATIA in the AEC industry, Dassault Systèmes and Frank Gehry partnered to create Gehry Technologies (GT). The school became a testing ground for Dassault Systèmes' first venture into the AEC industry, with Digital Project (DP), a derivative application of the CATIA V5 engine. During my time at the Product Architecture Lab, I got an opportunity to apply CATIA to a real‑world project, Apse Traction. Apse Traction was an extension to the office of Dean Marchetto Architects. The project involved an addition to a 19th century Norwegian church that was an abstracted Apse with an off-site fabricated Computer Numerically Controlled (CNC) bent steel tubular skeletal frame, lead-coated copper sheathing, and steel and glass curtain wall systems. The complex geometric form of the structure was accomplished by being modeled in CATIA to full detail. It is important to mention that this project also explored 3-D printing technology. The brackets on the tubular structure were individually unique and 3-D printed in structural stainless steel with "Pro‑Metal" of Pittsburgh. This is an early example of design-to-fabrication employing the use of additive manufacturing (3D Printing).
By the start of 2006, I was ready to bring CATIA to the building Industry. I moved back to Miami, and by March 15, 2006 PHI Cubed was born. Originally PHI Cubed was created as a professional service company to provide BIM services of project integration, information management, and construction validation services. We began to market the idea of using CATIA to virtually construct with the goal of achieving error-free construction, while creating a digital asset of the building that could live on for the total building lifecycle. When I spoke with my friends at the American Institute of Architects (AIA) about our ambitions to revolutionize the building industry, they recommended I teach. By the Fall of 2006, I had a research lab sponsored by Dade County Schools in the heart of Miami with the condition that I host the lab at Miami Senior High. Before long, I had a 30-workstation CATIA lab and about 125 students learning CATIA daily. Licenses came from my good friend David Livingstone of Engineering.com and with my lab up and running, I gave a tour to the chair of Miami Dade College, Jose Lozano. MDC asked me to come speak to them about the emergence of BIM. I gave them a presentation on BIM from an evolutionary/sustain and revolutionary/disruptive perspective. The college offered me the opportunity to teach the revolutionary application of CATIA, if I agreed to teach evolutionary BIM applications. I agreed and began to teach CATIA in the context of design, engineering, and construction. I created two courses, Intro to Building Assembly Design and Advanced Surface Design applied to AEC, with CATIA serving as the backbone of the classes.
Florida International University got wind of my efforts and invited me to help them with the school's accreditation.  The National Architectural Accrediting Board (NAAB) wanted to ensure that FIU was keeping pace with other schools of architecture and BIM was one of the hot topics the accreditation board was looking to see if the school was addressing. I was asked to come on board and help modernize the school's technology footprint. I gave the school hardware specs for BIM workstations, 3D printers, laser cutters, and 5-axis CNC milling equipment. And here too, I developed course outlines for evolutionary and revolutionary BIM courses based on the Gehry Technologies Digital Project (CATIA V5).  At FIU, students explored full detail modeling of modular design projects and assembly design applied to building design.
In 2007, I became one of the original founders of the Building Smart Alliance (BSA), a chapter organization of the National Institute of Building Science. BSA was originally the International Alliance for Interoperability (IAI). Interoperability is the ability of people, hardware, and software to work together. Back in 2004, the National Institute of Standards and Technology (NIST) released a document called Cost Analysis of Inadequate Interoperability in the U.S. Capital Facilities Industry. This document estimated the cost of inadequate interoperability in the U.S. capital facilities industry as $15.8 billion per year, not including the private sector. I knew that the information management problems of the AEC industry were huge, but I didn't realize they were potentially $15.8 billion a year. So BSA's goal became the adoption of BIM, and not just BIM but interoperable BIM, which was later coined Opened BIM. Both the BSA and PHI Cubed coincided with the adoption of BIM, and the elimination of interoperability problems became common goals for both organizations.
There are two ways to solve the interoperability. One is to build interoperable software in the first place. The second, is the support and adoption of the open standards. For the BSA, this meant the creation of its primary product, the Industry Foundation Class (IFC). Here again, I cross-checked CATIA from an interoperability perspective and learned that the aerospace and defense industries had little tolerance for interoperability problems. Mostly because errors in those industries represent catastrophic failure – in essence, people die. CATIA supported many open standards such as STEP, DXF, STL, VRML, and IGES files and on the high-end side of (computer aided design (CAD), Computer aided engineering (CAE), computer aided manufacturing (CAM) such as Siemens NX, PTC Creo, there is a native integration. Mid-market tools are supported natively such as SolidWorks and Autodesk Inventor. For IFC, Digital Project supported the AEC industry file exchange for BIM. Around this time, PHI Cubed adopted the slogan "Solving Interoperability through Practice, Process and Technology™."
While following the recommendations of the AIA teaching BIM, we got our first official project as PHI Cubed in 2008 with the New World Symphony Concert Hall. Designed by Frank Gehry, the concert hall was developed in CATIA. At the time, no one in the Southern Florida building industry community knew how to develop a project in CATIA. When Fachinna, the general contractor, reached out to the local community of colleges and universities to identify someone who could support them on the project locally, FIU shared my contact information. By the time I came on board, the project had already broken ground and foundation was being poured. They told me that they had three years to complete the project. I told them it took 6 years to build the Disney Concert Hall in LA and three years was very aggressive for developing a project of this complexity and without a proven team. I seconded Fachinna with one of my top guys, Luis Rodrigues, to work onsite. Together, we were able to coordinate and integrate the building. I'm proud to say, the project was a huge success, and was on time and on budget. After the opening on January 26, 2011, in a public presentation at Miami Dade College, I presented how CATIA was used to virtually construct the concert hall, integrate models from the various subs, and managed clashes and conflicts.
While the New World Symphony Concert Hall was a huge success, we got caught in the economic crisis of 2007 and 2008. Many developers were interested in giving us projects, but with the restrictions on capital, project opportunities kept falling through. No one was building during 2008 and 2010, and it seemed the boom was over. PHI Cubed survived during those tough years – we did hard-core R&D work to perfect and mature our process and I continued teaching CATIA at MDC.
In 2009, Hector Ceballos, one of my Miami Dade CATIA students won second place at the CATIA Operators Exchange (COE), with the "Baywalk Bridge Project." We went on to perform BIM coordination work, including the Miami Herald facility (printing press) in Doral, the Crimson condominium in Miami, and an ambulatory care facility at Florida International University.
In December 2012, we received a call from Dassault Systèmes informing us that DS formally wanted to enter the building construction industry and were looking for partners and wanted to know if PHI Cubed would be interested. I asked if ENOVIA™, was included and they said yes. At the time, our business model strategy was to host PLM in the cloud, so we could integrate people project, products, and process. We were working on an open source PLM platform. As we began to engage with DS, it became clear that DS was getting ready to offer a hosted PLM solution in the cloud. By 2014, DS Released 3DExperience Platform that ran the redesigned version of CATIA V6, which shifted away from files to a data-driven approach to information management. Over the next few years, DS added the AEC data model to the platform and adopted IFC for open file exchanges between competing BIM model software vendors.
In 2017, we completed the $15 million 801 Lincoln Road Redevelopment Project, which was our second project completed on the world-famous Lincoln RD. The project was developed by Terranova Corporation, designed by Shulman + Associates, with Wolfberg Alvarez & Partners as the architect of record, and constructed by Miller Construction with PHI Cubed as the BIM consultant on the job. We are particularly proud of this project because our model helped drive the construction. PHI Cubed used the 3DExperience Platform|CATIA V6 to perform design assist services to mock up and resolve the structure of the curtain wall and battered beam. Tolerances were very high for construction and there were columns that had three degrees of rotation. The model lived in the cloud, using the 3DExperience Platform and PHI Cubed created a bridge that integrated Miller Construction, D&D Welding (the fabricator and installer), and PHI Cubed in a common data environment. This project was also an excellent example of opened BIM and demonstrated excellent interoperability between CAD and Revit. The model also supported the development of complex formwork to construct the battered beam.
Today, we offer the complete solution to building lifecycle management and building information modeling. We sell the process that allows companies to work in real-time, in 3-D across a distributed network in the most integrated and immersive environment available, the 3DExperience Platform. From planning and design to construction and fabrication to ownership and operations PHI Cubed manages the information for the building lifecycle. PHI Cubed integrates people, projects, and process for the most interoperable solution available today. With a build-it-right-the-first-time methodology, our clients now have a repeatable process that makes error-free construction possible in the AEC industry. With our common data environment, our files now have a common network that allows them to collaborate, innovate, and co-author projects with a life-like digital experience. PHI Cubed is a partner of Dassault Systèmes, HP Computers, HTC Vive, and 3DCONNEXION.